Homosalate, or homomenthyl salicylate, is an organic compound in the salicylates class of chemicals. It's used in some sunscreens due to its UV-absorption properties, protecting against the sun's harmful rays by absorbing UVB rays, which are associated with DNA damage and increased risk of skin cancer. Homosalate is a synthetic UV filter used in sunscreen and other skin care products to absorb and filter out UVB radiation.
What is Homosalate?
Homosalate is a derivative of salicylic acid. It is an oil-soluble chemical sun-blocking agent that absorbs UVB radiation. However, homosalate degrades more quickly (losing 10% of SPF protection in 45 minutes) when exposed to higher UV light.

The mechanism of action of Homosalate is a process known as "photoprotection." This process involves the absorption of UV radiation by the Homosalate molecules, which causes them to undergo a structural change. This structural change allows the molecules to absorb and filter out UVB radiation, protecting them from UV damage.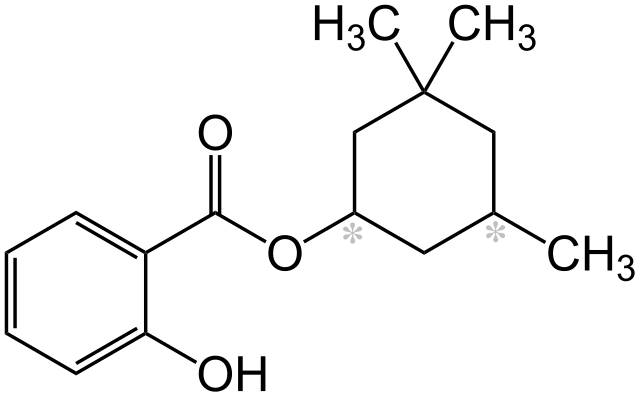 Salicylates are weaker UVB absorbers. They have a long history of use but have been supplanted by more efficient PABA and cinnamate derivatives. Salicylates are now generally used to augment other UVB absorbers. Homosalate has the ability to solubilize oxybenzone and avobenzone. Because homosalate only covers the UVB spectrum, it is usually combined with avobenzone (a chemical UVA filter) to get broad-spectrum coverage. Like most chemical sunscreens ingredients, homosalate absorbs into the skin — it does not sit on top of the skin like zinc oxide.
How is Homosalate Produced?
Homosalate is produced through the Fischer–Speier esterification of salicylic acid and 3,3,5-trimethylcyclohexanol, a hydrogenated derivative of isophorone. The salicylic acid portion of the molecule absorbs ultraviolet rays with a wavelength from 295 nm to 315 nm, protecting the skin from sun damage. The hydrophobic trimethyl cyclohexyl group provides greasiness that prevents it from dissolving in water.
Use of Homosalate in Personal Care
Homosalate is not a strong UV filter in and of itself (gives only SPF 4.3 protection at max. allowed 10% concentration). This sunscreen agent protects the skin from UVB (295-315 nm) with a peak protection at 306 nm. Homosalate is a common chemical ingredient in some sunscreen and lip balm brands that protect the skin against harmful UVB radiation. It can be combined with other sunscreens for wide-spectrum protection and has excellent dissolving properties for solid sunscreens. In the U.S., homosalate is a Category 1 UV filter permitted for over-the-counter (OTC) human use.
Applications of Homosalate in Personal Care Products
Homosalate functions as both a UV protector and a UV filter by absorbing UV rays.
| | |
| --- | --- |
| Function | Applications |
| UV Protector | Homosalate, when applied to the skin, absorbs UV rays, offering sun protection. In addition to causing sunburn, UV radiation is a significant cause of premature skin aging and contributes to the development of melanoma and other forms of skin cancer. Homosalate can also protect cosmetics and personal care products from deterioration by absorbing UV rays. |
| UV Filter | As a chemical sunscreen, otherwise known as an organic UV filter, homosalate is an aromatic compound. Its molecular structure is responsible for absorbing UVB energy. Homosalate absorbs UVB rays, which produce excitation of the sunscreen chemical to a higher energy state. Then, they return to the ground state and convert the absorbed energy into longer, lower energy wavelengths (heat). |
Product Examples
Homosalate is used as a sunscreen in various personal care products and cosmetics. Examples are listed below.
| | |
| --- | --- |
| Type | Examples |
| Sun Protection | Sunscreen Lotions, Creams, Sprays |
| Personal Care | Skin Care Creams, Lotions |
| Cosmetics | Foundations, Lipsticks, Lip Glosses with UV Protection |
| Hair Care Products | Hair Products to prevent UV damage and fading of color treated hair |
Properties of Homosalate
Appearance at 25°C
Clear, colorless to pale yellow liquid
Molecular Weight (g/ml)
262.344 g/mol
Density at 20°C (g/cm3)
1.05 g/cm3
Solubility at 20°C
Miscible in ethanol, isopropyl myristate, and paraffin oil. Immiscible in propylene glycol, water – 0.4 mg/L
UV Absorbance (E 1%/1cm)
170 -180 (at 305 nm)
Melting Point
<-20°C at 101.3 kPa
Boiling Point
295.1°C at 101.3 kPa
Specific Gravity
1.049 – 1.053
Refractive Index (n 20/D, 20°C)
1.516 – 1.519
Acid Value (potentiometric
filtration, mg KOH/g)
0.0 – 1.0 max
Odor
Characteristic, slight mint odor
Shelf Life
2-3 years
Recommended Storage and Handling
Store in well-filled, tightly sealed containers in a cool, dry place. The ideal storage temperature is 2-8°C.
Typical Formulations
High Protection SPF 30 Sunscreen with Skin-Lightening Properties
PHASE
INCI Name
TRADE Name
% Wt.
A
Homosalate
Parsol HMS (DSM)
10.00
Butyl Methoxydibenzoylmethane
Parsol 1789 (DSM)
3.00
Octocrylene
Parsol 340 (DSM)
2.70
Ethylhexyl Salicylate Octisalate
Parsol EHS
5.00
Polysilicone-15
Parsol SLX (DSM)
0.99
Potassium Cetyl Phosphate
Amphisol K
2.00
Benzophenone-3
Eusolex 4360
6.00
Cetearyl Alcohol
Lanette O
2.50
Tocopherol
dl-alpha-Tocopherol
0.20
Phenoxyethanol & Ethylhexylglycerin
Euxyl PE
1.00
Dicaprylyl Carbonate
Cetiol CC
3.00
C12-15 Alkyl Benzoate
Finsolv TN
3.00
Hydrogenated Coco-glycerides
Lipocire NA pastilles
1.00
VOP/Hexadecene Copolymer
Antaron V-216
1.00
B
Butylene Glycol
1,3-Butylenglykol (Brenntag)
3.00
Xanthan Gum
Keltrol CG SF
0.20
Disodium EDTA
Edeta BD (BASF)
0.10
Aqua
Water
51.31
C
Polyamide-5
Orgasol Caresse
2.00
D
Alpha-Arbutin
Alpha Arbutin(DSM)
2.00
Total
100%
Formulation Procedure
Heat Phase A to 85°C while stirring.
Heat Phase B to 80°C and add to Phase A while stirring and homogenizing the emulsion.
Cool down the emulsion to 40°C, add Phase C and Phase D, and homogenize again.
Here are the recommended percent weight of homosalate in various product formulations:
| | |
| --- | --- |
| Ingredient | % Composition |
| Sunscreen Lotions, Creams, Sprays | 5-15% |
| Skin Care Creams, Lotions | Up to 7.5% |
| Lipsticks (with UV protection) | 3-5% |
| Hair Care Products – UV Protection Hair Mask, Conditioners | Up to 10% |
Homosalate Formulation Considerations
Homosalate can be combined with other sunscreens. It has excellent dissolving properties for solid sunscreens.
Organic sunscreens such as homosalate can penetrate the skin due to their lipophilic nature, which may cause safety concerns. An issue with many organic sunscreens is their photostability. Upon exposure to UV radiation, the structure of UV filters may be negatively affected or destroyed. As a result, instead of returning to the ground state, they lose their absorption capacity. Therefore, most formulations contain photostabilizers such as octocrylene and TiO2, polyester-8.
Homosalate Regulatory Considerations
Homosalate is authorized worldwide. It is biodegradable, does not bioaccumulate, and has no known aquatic toxicity.
| | |
| --- | --- |
| FDA Information | According to the FDA Sunscreen Final Monograph Ingredients, homosalate is a chemical UVB absorber included in the FDA's Category Sunscreen Chemical list. Its approved usage level is up to 15%. The authorized range for homosalate in Cosmetics is up to 10%. |
| EU Information | The European Chemicals Agency (ECHA) confirms its favorable environmental profile. The recommended dosage of homosalate given by the European Union's Cosmetic Directive is 10%. |
| Japan Information | 10% in rinse-off applications, 10% in leave-on applications, 5-10% in mucous membrane applications. |
| Asia Information | Recommended dosage is 10% in leave-on applications. |
| Australia Information | Recommended dosage is 10%. |
| EEC Directive Annex VII | In the list of UV Filters that Cosmetic Products May Contain, the maximum authorized concentration of homosalate is 10%. |
Identification Numbers
| | |
| --- | --- |
| CAS Number | 118-56-9 |
| EC Number | 204-260-8 |
| ELINCS Name | Homosalate (HMS) |
Health Effects & Safety of Homosalate
Based on a safety assessment of homosalate, considering concerns related to potential endocrine disrupting properties,The Scientific Committee on Consumer Safety SCCS has concluded that homosalate is not safe when used as a UV-filter in cosmetic products at concentrations of up to 10%. In the SCCS's opinion, using homosalate as a UV filter in cosmetic products is safe for the consumer, up to a maximum concentration of 0.5% in the final product.
Homosalate is of low acute oral and dermal toxicity.
The SCCS agrees with the French RMOA (ANSES 2018) that homosalate does not present any concern for skin sensitization.
Homosalate and some other organic UVB filters, like 4-methyl-benzylidene camphor and octyl dimethyl-PABA, have been accused of being endocrine disruptors. The safety profiles of these UV screens were revised by the European Scientific Committee on Consumer Products and considered safe for human use.
Fun Facts About Homosalate
Homosalate is used in as many as 45% of all chemical sunscreen products in the United States.
Homosalate provides UVB protection, stopping where the UVA range begins. It's often used in sunscreens with higher SPF ratings.
Additional Sources & Resources
Couteau C, Pommier M, Paparis E, Coiffard LJ. Study of the efficacy of 18 sun filters authorized in the European Union tested in vitro. Pharmazie. 2007 Jun;62(6):449-52. PMID: 17663193.